Homeowners don't want to purchase new equipment….
A new heating and air conditioning system. It's the last thing on they are thinking about.  HVAC is out of sight and out of mind…..until it breaks! When it stops working, they want it repaired ASAP!  Sure, a new system would be great, and even consumers can get excited about the buying process.  But they want it fixed, if at all possible!
Remember the steps – Service First
I like to compare the HVAC maintenance, service, and replacement process to dating.  You have a goal when you enter a relationship right? Well, we want go any further than that, you know what I mean.  HVAC business owners ultimately want to replace systems right?  That's where the money is, but that's not what your customer wants. So, we have follow the correct path through service and maintenance to get to the promised land!
We have to nurture the relationship
It all starts with the first contact with the new customer.   It's typically a service call for a broken air conditioner or furnace, or it could even be a proactive homeowner that is looking for routine maintenance. So, how do we begin to nurture the relationship between homeowner and contractor?
Step 1: Establish "Trust" at the beginning, This is Paramount!
Let them know you are there to take care of them and their needs, you are their hero!  Engage with the customer, involve them in the repair or maintenance visit.  Show them that you and your company are the "experts", and they made the right choice by contacting you. If they TRUST you at the beginning, you will gain a "Customer for Life!"
Step 2: Put your arms around them and don't let go!
Make sure they only think about you, when they need heating and air conditioning services.  How do you do that you may ask?  Put the blinders on them!
Company stickers or decals on the thermostat, furnace/air handler, and outdoor unit.
Leave swag gifts when you visit their home or business (koozies, travel mugs, kid's toys, pens, notepads…..anything they will use!)
Keep in contact with your customer:  newsletters, social media, emails, text messages
Step 3: Communicate with them about where they are in the "relationship"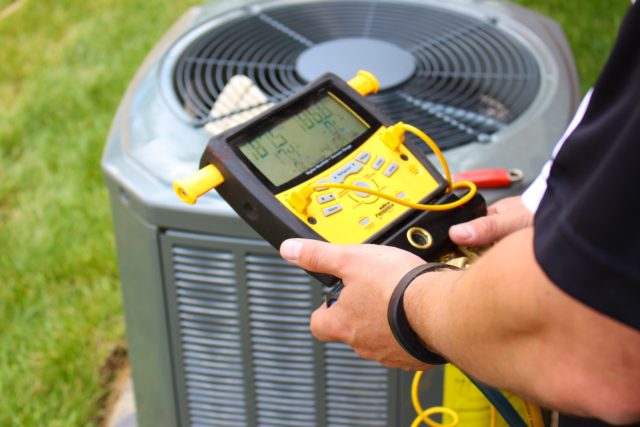 Keep them involved!  You must prepare them for your "Ultimate Goal", the changeout!  Each time you are there for maintenance or service, you must involve them!  Show them pictures, remember a picture is worth a thousand words! Let's look at some examples of how to involve your customer and prepare them for the system replacement:
Show them how the contactor is starting to pit
Test the capacitor and show the homeowner the low microfarad reading
Remind them they've had multiple repairs over the last couple of years
They will be more comfortable, save money on energy bills, and have piece of mind their system will not breakdown
What does the homeowner want?  They want you to repair it!
They want to know you are taking care of them, and you genuinely care about their best interest.  They still want the relationship, but they do not want to invest the money in a new heating and air system until it is absolutely necessary.  Remember, it is our job to educate and lead them down the path.  When it makes the most sense to the consumer, then they will be ready. It's a relationship!
So what happens when we Advertise for Changeouts?
Your company may become just a number to the homeowner.  They are looking for a low-cost provider to replace their heating and air system.  Have you ever heard, "We are getting several estimates."  They treat your HVAC company like you are a "Retail" outlet.  The consumer finds the specifications, efficiency, warranty, and brand they are looking for, then it all comes down to price.  Price is much less of an objection for a customer you have been servicing for years.  They "Trust" and "Value" your services, you have been nurturing the relationship over time.  Now, you have gained VALUE with your customer.
Advertising for Equipment Replacements Leads to….
Lower Closing Rates
Lower Margins
Less Loyal Customers
Lower Total Job Price
I'm sorry, but you have to play the long game in Residential HVAC
If we work hard at building relationships with our customers, your company will win over time.  There are no quick fixes or "magic" bullets to succeed in this business.  It takes hard work!  Build your business through maintenance and service, and you will get those equipment replacement jobs and at a higher margin!
We hope this article helps!
As always Good Luck and Good Selling!
We would love to hear from you!
Sincerely,
Will Merritt